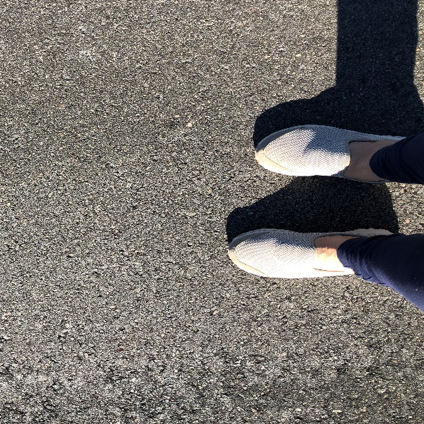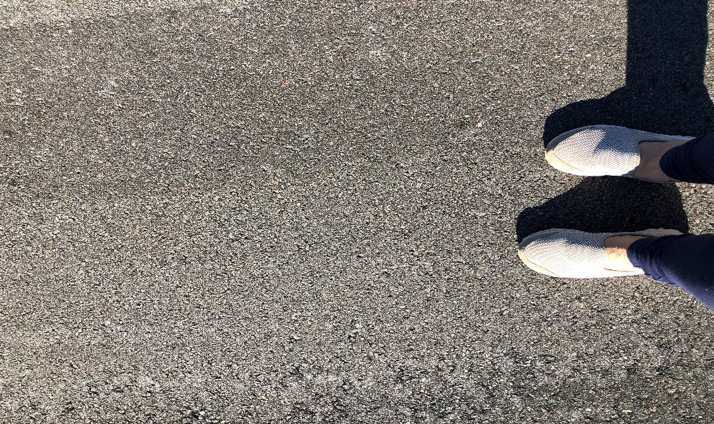 I thought I would take you for a walk with me
Is it really February, 62 degrees outside and sunny here in New Jersey?  Oh yes! I'm doing my happy dance! It brings such joy to my heart to be outside so soon!  Can I get an amen?
Perhaps you too are having an extraordinary day. The kind of day that will renew any soul. The Lord knows mine needed it.
In front of me is a long straight road with lots of hills and valleys three miles back and forth. Many times, I thought of picking an easier route but through perseverance, I've walked this road for many years. I first walked it with my toddlers, then they walked it with their friends, joining them eventually were their spouses and my grandchildren. It's been my solace as I talked and cried with God seeking wisdom.
Often, when I return from my walk my burden lifted and there is a spring in my step, letting the world go on notice I can conqueror whatever was next. Today would be no exception. I am so grateful. It's been awhile.
 Earbuds in place, podcasts in cue, I was ready for my 3 miles of sacred bliss. Enjoying one of the podcasts, I was reminded how one of my big goals is to have my own podcast. The very thought of it reached deep into my soul. As a life-long learner, doing counseling, leadership and relationship coaching, I love to share with others what I have learned.
Instead of enjoying my walk, thoughts began gripped me with doubt and fear- again. What was this? Then I realized I began to focus on the podcaster's success, their skills, their knowledge, their wisdom and with each word I began to feel less than.
How could I do a podcast this well?
What am I good at anyway?
Who am I fooling?
Stop them right there!
Here is where the rubber hits the road. Focusing on others instead of our own dreams is not what God intended. He knows and now I know, my purpose and His plan for me. (Jer. 29:11 NKJV) I have written down His vision for me in faith. (Habakkuk 2:2-4 NLT) I have surrendered and overcame many obstacles in my life. (James 1:2-4) My thoughts can change for the worse in an instant if I let fear creep in. I learned thoughts must be captured and replaced with truth (2 Cor. 10:5 NIV).
Here's what we can learn from a walk- focus needs to stay on the road ahead (His plan and my purpose) and taking each step with faith. You and I were created to be more than we could have ever imagined (Ephesians 3:20 NKJV). Ever since I believed in Jesus, He has helped me to be more. Yay God!
What does it take to keep moving forward?
 Focus on Your Destiny
Having a plan and knowing your purpose needs some prioritizing such as spending time in prayer, knowing your strengths and weaknesses, listening for God's small still voice, and feeding your passion are on your roadmap for success. The long road we walk to our destiny is a challenge with ups and downs but keeping your focus will get you there.
"You make known to me the path of life; you will fill me with joy in your presence, with eternal pleasures at your right hand." Psalm 16:11(NIV)
Focus on Your Possibilities
Keeping positive. There are so many negatives we have believed as truth. Searching for truth led me to God as a Father. He is a loving Father with only good things for us and He does everything through His love (1 John 4:16). If there is testing, it's to see what your heart truly believes (Deuteronomy 13:1-3) and  to get rid of anything that would be in the way of succeeding. Negative thoughts, such as regrets, will hold you back. Positive thoughts will help you to dream big dreams. It's a choice. Chose well my friend.
Positive thoughts bring positive results.
"Do not remember the former things (what held us back) nor consider the things of old. Behold, I do a new thing, now it shall spring forth; Shall you know it? I will even make a road in the wilderness and rivers in the desert." Is. 43:18-19)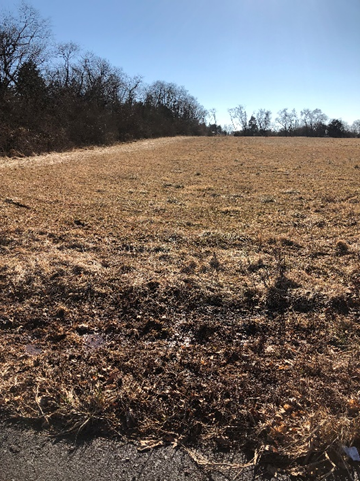 Focus on Being Consistent
"Be consistent, it compounds" and "Perseverance keeps you in the game" John Maxwell.
Staying in the game is being successful that has huge payoffs. While we may want to give up, going up hills and down into valleys is part of the journey. Focusing on circumstances keeps us stagnant. We may make permanent decisions based on temporary circumstances because of it. Just like the seasons, they are just that- temporary. As I walked today, I looked over this brown and dormant field knowing in a few months it will be budding with new green tender growth. A new season will be upon you before you know it. Hang in there!
Focusing on your destiny, your endless possibilities and being consistent will keep you moving forward into living a life you love. Enjoy your journey!
Ps. I'll let you know when my podcast is up and running. 😉